Overview
The Automated Screening Application has two sides.  The applicant portal and the administrator's site.  This document is where we will go over all of the pieces of the applicant portal and how to use them.
Getting Started
The first step is to register.  Go to the portal home page at this address.
http://screen.rb-sns.com:8080/screening/login
Click on the Register button to go to the registration page.  Enter your email address and phone number as well as a password.  Your email address will be your login.
You will be sent a verification email to the address provided.  Once you click on the verification link, you can log in to the portal.
Applicant Home Page
Once you login you will start on the Applicant Home Page.  This page provides data and links to all your site related actions.
The top of the screen has a link to manage your profile or log out.  There will be a reminder message below those links to remind you to update your profile if it is missing information like "Goals" or "About Me."
Applying For a Job
The goal of an applicant is applying for a job.  That process is performed on the applicant home page.  There is a list of available and active positions at the top and an input for a job code when one has been provided.  The job code is key to accessing an opening not publicly listed.  Either select a row and click the apply button or enter your code.  At that point, the job applied for will be available at the bottom of the screen.
My Applications Section
When jobs are applied for, they appear in the My Applications section of the page.  Each Job will have related information and options to complete the application process for it.  You can also click on the link below the "My Applications" title for instructions.
Each Job has a Title provided by the company, and then a summary of the job follows.  These items are entered by the company so some will have more details than others.  In particular, you might want to review the original site of the posting if you came here from a company or other job board.
There are four steps to completing an application.
 Provide a Resume
Answer the General screening questions
Answer the Tech screening questions
Answer the Deep screen questions
Click on the "Take Test" button to take a test.  Once you have answered all of the questions the take test button will be replaced by "Completed."  The Tech screen test does allow you to save and come back.  However, you should plan for some time to complete it in one sitting.  Your time to answer each question will look suspicious if there are several stops and starts of the tech test.
Typical Tech screens will be around 50-100 questions and should be 15-30 minutes to complete.  They are not intended to be questions you "research" on a search engine to find the answer, and we track timing to help determine whether your knowledge is in your head or coming from an external source.

Uploading a Resume
This does not have to be done for every job.  Once you have uploaded a resume, we will have it on file and use that for each posting.  Note that we have a 2MB file limit for resumes and you should use a standard format such as word (doc, docx), RTF, or Acrobat (PDF).  Plain text files will work as well, but we recommend you use a formatted style.
General Screen Questions
These questions come in a variety of formats.  Most are multiple choice, but there are also short answer and yes/no questions.  Read each item carefully and answer honestly.  There are not any right or wrong answers to these.  The responses are used to match your goals with the position.  Thus, a good match means you are likely to be happy and stick with the job instead of looking for a new one soon.
Some questions will have a "Firm" checkbox at the bottom.  You can check firm if the answer you give is significant.  For example, you might respond to a salary question that is what you would like or a goal.  If you instead know that your answer is a deal breaker when it does not match the company then check Firm.  This option often applies to questions related to work schedules and travel.  Note that a firm answer does no eliminate you from consideration, it just impacts your match score.  Thus, you may hate travel, but an otherwise perfect job could sway you.
Tech Screen Questions
The tech screen questions are aimed at testing your skills and knowledge.  These are timed although you can drop out of the test at any point and continue later.  You cannot change an answer once one has been submitted.
Note that each question has a topic listed at the top and a count of items left to answer at the bottom.  The questions typically will be grouped by topic, but you may have them switch around and misunderstand the context of the question.  Also, read each query thoroughly, and all of the available options.  Some questions will accept multiple answers.  There is a wide range of approaches to tech questions so some may be much easier than others even amongst those targeting the same level of experience.
Deep Screen Questions
The Deep screen questions are not scored through an automatic process.  The answers to these are read by reviewers that will use your answers to help rate you against other applicants.  It is vital that you answer these questions as honestly and thoroughly as you can.  You also need to use your own words.  If plagiarism is found, that may immediately disqualify you from consideration.
These questions also may be looking to find out how you are a personality match as well as technical screening so be prepared for a wide range of items to be asked in a deep screen set.  As a final warning, the answers to deep screen questions cannot be changed once you click the next button and save an answer.  Although you can close the test and come back to it, you cannot re-enter or edited saved responses.
My Profile Page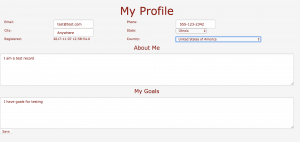 You can enter and update your profile at any time.  Your email address can not be changed though.  The About Me and the My Goals content will be visible to prospective employers so make sure you keep it clean and professional.
Your phone number will only be made available to those that want to contact you through a phone screen.
Now What?
Once your application is complete, it will be graded and submitted to the company for review if you pass their criteria for selection.  You should also receive an email to verify that everything is complete and has been submitted.  Contact us if you have questions or concerns.
Some Companies will require a deep screen review and possibly a phone review.  These steps will be used to narrow the field of applicants, and if you make it to a phone screen for a company, you will be contacted to set up a number, date, and time for the phone screen.  Be prepared to be asked for identity verification information as part of that although how that works will vary by company.
Once everyone has been screened, you will be contacted by the company for either in person interview scheduling or presented an offer if you are their best candidate.